Tanks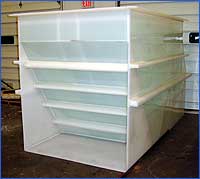 AB Plastics, Inc.

fabricates a wide variety of corrosion resistant tanks to meet the needs of various manufacturers. Tanks can be fabricated in rectangular, round, horizontal, cylindrical, and L-shaped configurations. Materials of construction include: polypropylene, polyethylene, PVC, CPVC, PVDF, ECTFE, FEP, PFA, and FRP. Thermoplastic/FRP dual-laminate construction is also available.

Thermoplastic tank construction offers an excellent alternative to steel, stainless steel, rubber lined, and exotic alloys in highly corrosive environments. All AB Plastics, Inc.'s tanks are deigned and manufactured per the latest engineering standards to withstand years of rigorous use in the metal finishing, plating, and chemical process industries.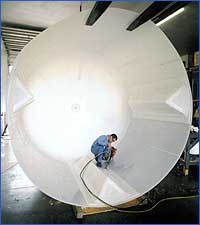 Individual tanks can be custom designed to fit any application. Some options that we offer are: Threaded or flanged nozzles, internal dividers and baffles, ladders with safety cages, top and side manways, insulation, heat tracing, sight gauges, lifting and hold-down lugs, containment pans, immersion heaters, agitator mounts, and dip tubes.

To insure the highest quality construction and maximize service life, AB Plastics' welding personnel are certified per ASTM C-1147-95a. We utilize the latest computerized design, drafting, thermoforming, butt welding, and extrusion welding equipment to produce the finest tanks in the industry.