Ducts & Fittings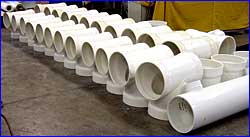 AB Plastics, Inc.

designs, manufactures, and installs corrosion resistant ductwork and ventilation systems for any fume or vapor control requirement. All of our ductwork, duct fittings, hoods, and systems are designed and fabricated per the current SMACNA Thermoplastic Duct Construction Manual. This insures that the systems will perform as intended and result in a long operating life with minimal maintenance.

We can provide either a complete turnkey system or individual system components fabricated from PVC, Corzan CPVC, HDPE, polypropylene, or FRP. For extremely corrosive environments or special applications, dual-laminate or fluoropolymer materials of construction can be used.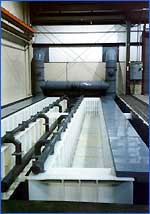 All ventilation airflow requirements, and design procedures for hoods and duct follow the standards set forth by the American Conference of Governmental Industrial Hygienist in the current Industrial Ventilation Manual. All exhaust blowers are chosen and provided to supply the correct volume of exhaust flow and pressure to match the system requirements and are constructed of the proper corrosion resistant materials. All ductwork, hoods, and fittings are fabricated and welded by ASTM C-1147-95a certified welders utilizing the latest in computerized welding and fabrication equipment.

Be assured that an AB Plastics, Inc. ductwork and ventilation system will provide years of trouble free service and the utmost in performance.