Installation & Field Service

AB Plastics, Inc.

can also provide "turn-key" installation services for all the equipment that we manufacture. Whether it is a simple tank and piping installation, or a complete fume control system with hoods, ductwork, PLC operation, and emission monitoring equipment, AB Plastics, Inc. has the knowledge and personnel to make your installation process easy. We take pride in installing our equipment on-time, and with minimal interruptions to your existing production schedule. Our field supervisors and technicians have experience in all types of chemical process industries, metal finishing operations, food service facilities, and municipal water treatment plants.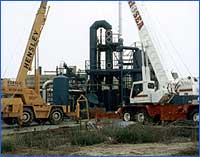 AB Plastics, Inc.

also offers on-site repair services for your existing thermosplastic and FRP process equipment. From small pipe line or tank repairs to complete FRP tank relining and fume scrubber system rebuilds, we have experienced field crews available. Field personnel are trained and certified in all aspects of confined space entry, haz-mat procedures, lock-out/tag-out, and other OSHA safety requirements to assure smooth and quick repair to get your equipment back to operation.